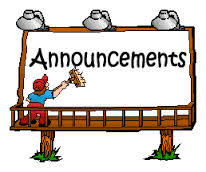 STAAR Testing in April
Students in Grades 3, 4, and 5 will be taking their STAAR tests this month. Testing schedule as follows: April 22 (3rd and 4th Math) April 23 3rd and 4th Reading, 5th Science) Parents will not be permitted to visit or volunteer in the school building on these testing dates. Thanks for your understanding. Good luck students!
Volunteers Needed for 2014/2015
Would you like to help out with all the exciting programs and events at Jackson? How about being part of the planning and organizing? Or just helping out behind the scenes? The Jackson PTA needs you. Positions are open for the PTA Board for the 2014/2015 school year. It is a great way to meet other parents and really feel part of your child's school experience. Contact Lea Harbour if you are interested: lea_harbor@verizon.net. Click here for more information: Volunteer Flyer

The Final general PTA meeting of this school year is on Friday May 16 @ 7:45am.

Teacher Appreciation Week is May 5-9
Don't forget to show all of your teachers and specialists how much you appreciate their hard work and dedication to our Jackson students. Homemade treats, cards, etc. are a great way to say "Thank you for a great year!"

McDonald's Night Wednesday May 14, 4-7pm
Come out and see your teachers and principal serving up food for you at McDonalds. It will be the happiest night of the week! You might even spot JJ the Jaguar having dinner! A portion of sales will go directly to Jackson, so don't miss out! McDonalds located at 216 S. Coit Rd.
Family Spring Picnic Friday May 2 @ 5:30pm

Come out and join Jackson families for the Spring Picnic. It is a great time to relax and enjoy being part of the Jackson community. Bring a picnic dinner, play with friends, visit with parents and teachers, enjoy games, activities, and the yummy cake walk. New this year: bring $ to have the chance to soak Jackson dads in a dunk tank!
***Parents-please help out by bringing in baked goods for the cake walk. Donations can be homemade or store bought and can be brought to the office on May 1 and 2. Please no treats that need refrigeration.
Up and Active Day Friday May 23
Up and Active Day is coming on Friday May 23. This is a wonderful opportunity to help out and spend a fun and energetic time at Jackson and watch your students participate in sports and field events. Jackson elementary and the PTA need your help. There are many opportunities to volunteer your time to make this event a huge success. Please contact Cara Prentice to help: caralprentice@gmail.com.
Jingle for Jackson in the final stretch!

It's the last month to help out! Bring in your spare change and help fill your classroom piggy bank. Students have raised 1450$ so far! The first class in each grade to fill their bank wins extra recess!! This money goes directly the PTA to help fund school programs and events. Thanks for your support!
Free Breakfast
Jackson is now serving free breakfast to ALL students every day. There is no need to sign up and there is no charge. Your child can come to the cafeteria starting at 7:00 a.m. and get a breakfast for free!
WatchDOGS are at Jackson Elementary!
WATCH D.O.G.S.®, a K-12 program, invites fathers, grandfathers, uncles, or other father figures to volunteer at least one day all day at their child's school. WatchDOG volunteers perform a variety of tasks during their volunteer day including monitoring the school entrance, assisting with carpool, morning and afternoon bus duty, monitoring the lunch room, and helping in the classroom with a teacher's guidance by working with small groups of students on homework, or flashcards.
*For Additional Information, contact Mike Gill: mikecgill@gmail.com or David Ryder: Slowlyallofasudden@gmail.com
JacksonPTA.com is the best way to stay informed on what's happening at your child's school!
Create an account today and:
Receive emails about upcoming Jackson programs and events

Find your child's friends on the online directory

Have easy access to the lunch menu and parent's portal

Sign up for volunteer opportunities

Purchase spirit wear and year books


Become a member of the PTA

And much more